Come visit me at the James E. Cryan Memorial Tennis Tournament, Mercer County Park Tennis Center, on Tuesday night, August 1, 6:00 pm – 9:00 pm. No, I'm not competing—those days are behind me—but I'll have a table, with copies of my books. and would love to have you stop by and chat.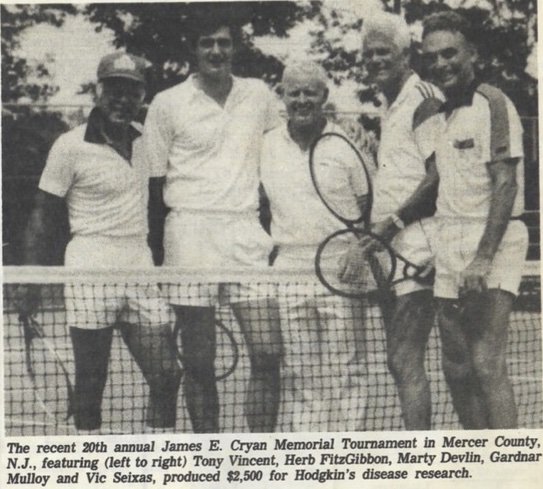 I have a long history with the Cryan Tournament, one of the most popular, if not THE most popular, local tennis tournaments of the year. It's been around since 1965, making 2023 the 57th annual event. It has always attracted tennis's cream of the crop from near and far. It was begun in memory of James Cryan, who died of Hodgkin's disease. His son Jim is one of the organizers, along with Mike Ehrenberg and tournament director Marc Vecchiolla.
I played singles and doubles for many years. In 1978, I picked up my only title with my long-time doubles partner, the late Ken Wilson. I was in the finals several times and one year should have won a singles title. I was playing three-time champ Steve Foldes in the finals, and he cramped up. The rules had me winning. I didn't want to win that way, so we resumed after 30 minutes, and darn if he didn't beat me! That was the beginning of my singles career. I went on to win some national tournaments. When my game started declining and the tournament got stronger, I didn't feel competitive any longer in the A division, but there was no way I wanted to play in the B.
In 1982, I was presented with the Dan Haggerty Sportsmanship Award at the Cryan, and in 1984, I was honored to receive the James E. Cryan Memorial Achievement Award. I also presented awards at one time or another and volunteered to conduct drills at the community clinic on finals day.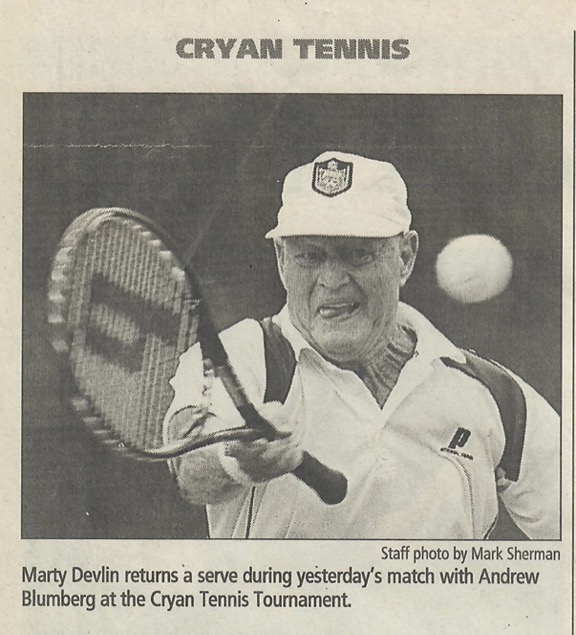 If you want to check out the draws, players, and results during the tournament, go to cryantennis.com and click on tournament info. The dates are July 31– August 5. There are multiple categories in Open, A and B levels.
The number of competitors has often been in the hundreds. They tell me this year the number is an astounding 394, about the same as last year. So stop by to say hi to Ol' Buddy and Mary Ellen (and my book team)—and see some great tennis!
Marty