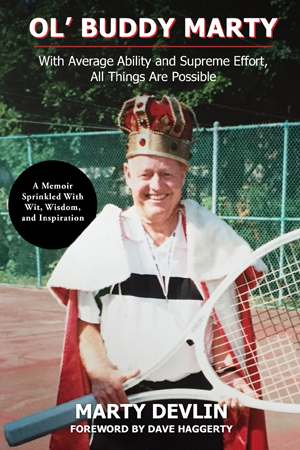 Yes, the wait is over, for me and for all of you who have been asking.
Those of you in the area of Bucks County (PA) and Mercer County (NJ) will have opportunities to purchase signed copies of my book, Ol' Buddy Marty. Here are a few events already scheduled. We'll notify you of more as they're added.
The first event is the Local Author Day at the Princeton Public Library, 65 Witherspoon Street, Saturday, April 29, 1:30 – 4:00. This fair allows authors from the greater Princeton area to sell their books and connect with readers while helping our community discover their next great read. (From the Princeton Public Library website)
The second event, a formal book launch party, will be held on Wednesday, May 17, at Mercer County Tennis Center, Hall of Fame Building, Mercer County Park, from 5:00 pm to 7:00 pm.
I will be at both events to sign books, answer questions, and do my thing.
Ol' Buddy Marty is the story of my life: the challenges and opportunities I faced while growing up in Trenton, my journey in professional baseball with the Dodgers organization, going back to school, working at Rider, playing tennis and conducting tennis clinics for Prince, ski patrolling in Vermont, and what I still do today, teach tennis and my principles for life. It's a life I love. I hope to inspire you to love yours.
For those who live out of town, the book is available on Amazon.
I'm so proud to have completed this project and look forward to sharing my story with you!